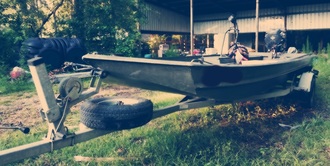 Why are we different?

This is not a huge group tour – Bruce will be your guide – you will be riding in the same 20ft surface drive boat Go Devil boat that he hunts gators in! Bruce was born and raised hunting in the passes and bayous b/w Lake Maurepas and the famous Lake Pontchartrain! You will get a one on one adventure with Bruce as he guides you through the swamps, bayous and passes with stories, landmarks and let's not forget the animals you may see! Gators, snakes, turtles, nutria rats, frogs, birds and so much more! Every where you look the scenery is absolutely breathtaking.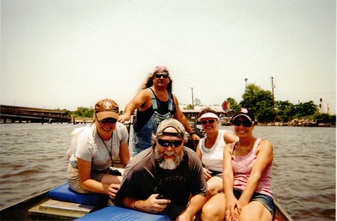 ---
Tour pricing:
Boat will hold up to 4 adults (not including Bruce). Tour rate is $500.00 flat fee for a 3 hour tour. Tours may go over the 3 hours-please inform Bruce of any time constraints.



Deposit required:
½ down is required to book the tour – we will invoice you by PayPal for the deposit amount of $250.00.
$200.00 of the deposit is refundable if you cancel the tour 2 weeks before the booked date – after that the deposit is non-refundable.

The remaining tour payment will be accepted the day of the tour – cash or money order please.

Rainchecks are available and must be scheduled with the same procedures as the original tour.


---
Tour times:
Best time to get on the water is in the morning – it's much cooler and bearable!
8am or 9am are your prefferred choices.

Please be on time for the tour – Bruce will be waiting for you at the meeting point for only 30 minutes after tour was supposed to begin – if you are running behind – please call and let him know!



Tour days available:
Tours will preferably book on weekdays – in advance and by reservation appointment only.

---
Meeting place:
For ease of access – Bruce will meet his tour guests at the public parking lot in Ponchatoula - see map below. From there – Bruce and guests will travel separately – about 10 minutes to the public boat launch in "Manchac", LA - a local name for the city of Akers, LA.
https://www.google.com/maps/@30.4384028,-90.4413726,20z


Once you get into Ponchatoula, LA - going East on HWY 22 - you'll see a giant American flag flying high on the left - take a right (before or after the railroad tracks) You will see a huge train / engine - your in the right place - they have restrooms! Once you pull into the concrete parking lot you can look to the west and see a local fav. Roux and Brew restaurant or to the east and see CJ's Antiques.
---
Once meet Bruce - you'll head to the boat ramp..... about 10 min. away.
If you are interested in booking please fill out the reservation form below – we will get in contact with you about further booking and details via email.

If you still have questions and need more information - please email us at brucethealligatorman@gmail.com.


Some boat tour details if you decide to book!
*Tour will be given in Bruce's 22 ft. surface drive boat that you see on SwampPeople.
*Life Jackets provided for adults 90lbs and up- please let us know if there will be passengers less than 90 lbs and we can arrange for life jackets.
*Ice chest with water will be on the boat.
*Please be sure to bring any of the following that you may need:
Jacket or wind breatker


bug/misquito spray


hat or sunglasses


proper shoes


sunscreen


snacks/picnic


life jacket if passenger is less than 90lbs


remaining balance for tour payment


Nearby attractions.......
this article is still under construction - adding attractions daily!
---
Louisiana is bursting at the seams with food, fun and entertainment. Here are just a few local favorites!
Please visit our friends at www.louisianatravel.com for so much more!!!
---
---