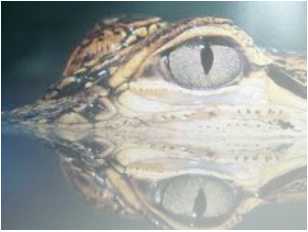 All About Gators.....

The American alligator (Alligator mississippiensis) is the largest reptile in
North America. The first reptiles appeared 300 million years ago and ancestors
of the American alligator appeared 160 million years ago. Reptiles are a
cold-blooded animal, which means that their body temperature is regulated by the
temperature of the environment around them. This is why alligators are seen
basking in the sun, trying to regulate their body temperature. Because
alligators are cold-blooded, their body rates are slowed down and they feed less
frequently in winter months. For this reason, alligators enter underground
holes/dens and remain dormant throughout the winter months.

Watch Bruce on the History Channel's Swamp People!




For interviews, appearances or business opportunities, please contact:
Lorraine M. Schilling
Personal Assistant
985.974.1834
985-351-2820

P.O. Box 1945
Ponchatoula, La 70454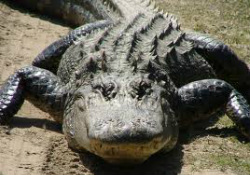 Alligators are about 8" - 12" in length when they are hatched from eggs. Growth
rates may vary from 2" per year up to 12" per year, depending on the type of
habitat in which the alligator is living and the sex, size and age of the
alligator. Growth rates slow down as alligators become older. Male alligators
will grow faster and larger than females. Females can grow to approximately 9'
in length and 200+ pounds. Males can grow to approximately 13'+ in length and
attain 500+ pounds.
---
Average life span in the wild: 35 to 50 years

Size: 10 to 15 ft (3 to 4.6 m)

Weight: 1,000 lbs (453 kg)

Group name: Congregation

Protection status: Recovered

Did you know?
The largest American alligator ever reported was
supposedly 19.8 ft (6 m) long, although there are doubts about the
claim.